If you're planning to have a holiday cocktail anyway, you might as well have one that contains superfoods. Superfoods have lots of nutrients that improve our health at the cellular level. Superfoods can contain antioxidants, polyphenols, vitamins, or minerals.
The important thing to remember is to limit your alcohol intake to a maximum of 1 drink per day for women, or up to 2 drinks per day for men. The size of the drink should not be determined by the size of your cup. A glass of wine should be only 5oz, and cocktails should only contain 1.5oz (3 Tablespoons) of distilled spirits like vodka, gin, tequila, rum, or whisky.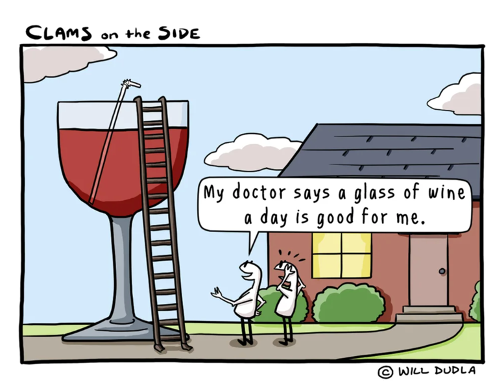 Drinking alcohol raises the risk of some cancers, and the more you drink the higher your risk. It is best to minimize your alcohol intake and to really savor the rare cocktail you do enjoy when socializing (responsibly) with family and friends.
Red wine is rich in polyphenols, micronutrients packed with antioxidants, and resveratrol, a compound with anti-inflammatory and anti-aging properties. Avoid sweet wines whose high sugar levels cause inflammation which is at the core of chronic diseases.
My favorite holiday cocktail is Mulled Wine which contains cinnamon which reduces blood sugar, oranges for vitamin C, and red wine with polyphenols and resveratrol. There is a delicious recipe for mulled wine on www.GimmeSomeOven.com. You combine 1 bottle of dry red wine, 1 orange sliced, 8 whole cloves, 2 cinnamon sticks, 2 star anise, 2 Tablespoons of maple syrup, and ¼ cup brandy in a sauce pan and simmer on the stove for up to 3 hours. Strain into mugs and enjoy the holiday fragrance as you sip the warm delight.
For a beautiful holiday cocktail, check out the Orange-Infused Whisky Ginger recipe on www.MinimalistBaker.com. First, you use fresh ginger root and a food processor to make ginger juice. Ginger is an anti-inflammatory root. Then, you make a 3-inch long piece of orange peel, swipe it around the rim of your cocktail glass, and muddle it in your cocktail shaker along with ½ oz of ginger juice, 1 Tbs maple syrup, 1.5 oz lemon juice, and 2 dashes bitters. Then, add 2 oz bourbon whiskey, ice, shake, and pour over a cup of ice and top with a splash of sparkling water, garnish with fresh mint and cranberries.
Try a superfood spin on the classic mule with the Cucumber Kale Mule recipe on www.organicauthority.com.
The first step is to make the cucumber kale juice by putting 1 cucumber and 2 stalks of kale in your juicer and straining. Add 1.5 oz of this green juice to your cocktail shaker along with ¾ oz fresh lime juice, 1.5 oz vodka, and ice, and strain into a glass filled with ice, top with 3 oz ginger beer (I prefer Fever Tree ginger beer), garnish with a cucumber slice and mint.
Be safe and enjoy this holiday season! Remember never to drink and drive, and to enjoy responsibly.
I toast to your health – Salud!
Dr. Boston sees patients for integrative primary care and wellness at the Akasha Center for Integrative Medicine, 520 Arizona Ave, Santa Monica, California, 90401. Call 310-451-8880 to make an appointment.