The longer days of summer are perfect for exercising outdoors. The benefits of exercising in the sun include:
Enhanced mood
Better sleep through optimizing the circadian rhythm
Fresh air
Activation of vitamin D
Breaking up the boredom of the gym
Decreasing the perception of exertion (it feels more fun)
The scenery can bring you joy
Skin eliminates toxins through sweat
To safely enjoy an outdoor exercise program, a plan needs to be in place for sun safety. Sun exposure can cause DNA-mediated damage to skin cells, skin cancer, and accelerated skin aging. Nearly 5 million Americans are treated for skin cancer each year.
Sun Safety includes:
Exercise before 10am or after 4pm, avoiding peak UV hours
Sun-protective clothing and hats. Cotton does not protect you from the sun
Look for clothing with listed UPF (UV protection factor)
Apply sunscreen 15 minutes before exercise and every 2 hours
Apply more frequently if swimming or sweating profusely
Choose sunscreen without endocrine-disrupting or skin allergy-inducing ingredients
Avoid sunscreens containing Oxybenzone
Check out Environmental Working Groups (EWG)'s Guide to Sunscreen online
If pregnant or nursing, choose a mineral sunscreen to avoid fetal chemical exposure
Hydration during your summer exercise routine is important to avoid dehydration and heat stroke. The American College of Sports Medicine recommends hydrating prior, during, and after exercise. During exercise, drink 3-8 oz water every 15-20 minutes if exercising for less than 60 minutes, or use sports beverage if exercising for greater than 60 minutes.  Low sugar coconut water is also a great postworkout drink to replenish electrolytes and re-hydrate.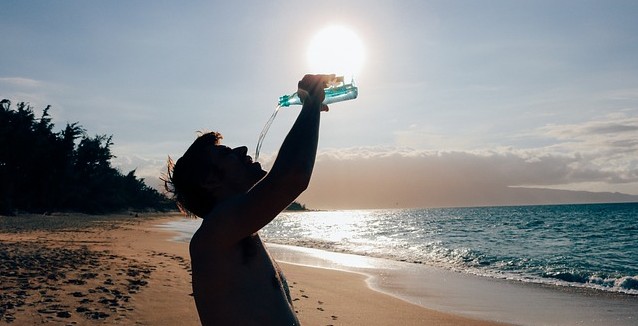 Now that you are well-hydrated and sun-protected, it is time to enjoy the great outdoors this summer. Some ideas for a fresh outdoor exercise program include hiking trails, roller-blading, cycling, elliptical cycling, swimming, jogging, power walking, or joining a recreational sports team. Or head to a park for a self-directed regimen of walking lunges,using a bench for tricep dips, single leg step-ups, and plank position, calf stretches lowering your heel off a curb, wall-sits with your back against a wall and knees bent to 90 degrees, the options are endless.
For a detailed "do anywhere" 20 minute workout, check out 4 Travel-Proof Exercises by Anna Price!
Dr. Bren Boston is board certified in Physiatry and Pain Medicine through the American Board of Physical Medicine and Rehabilitation and is the Director of Pain Management and Sports Medicine at the Akasha Center. Call 310-451-8880 or email info@akashacenter.com to make an appointment!