What is SIBO (Small Intestinal Bacterial Overgrowth)? "The Gut on Fire"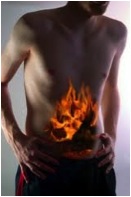 For decades irritable bowel syndrome has been a vexing problem for doctors and patients alike. Patients complain of consistent and often debilitating abdominal pain, distention, diarrhea and/or constipation. Gastroenterologist are consulted but most gastrointestinal tests come back negative; antispasmodics are prescribed as well as fiber and both do little to solve the symptoms. The whole syndrome is frequently attributed to anxiety, which is in most cases managed with psychotherapy or antidepressants but lead to little resolution, if any. Very often the symptoms worsen with time leaving the patient wondering if he/she will ever be able to enjoy two of the most basic pleasures of life: Food and digestion.
So what are the most common symptoms and signs of SIBO?
Gas
Bloating
Diarrhea
Abdominal pain or cramping
Constipation
Diagnosis of Inflammatory Bowel Syndrome (IBS)
Food intolerances such as gluten and lactose
Diagnosis of fibromyalgia, chronic fatigue syndrome, diabetes, rosacea, restless leg syndrome and autoimmune diseases.
History of food poisoning or parasites
Long term use of antibiotics
And what is the diagnosis that SIBO is associated with:
Crohn's disease
Restless leg syndrome
Rosacea
Fibromyalgia
Chronic Fatigue Syndrome
Interstitial cystitis
Chronic prostatitis
Fatty liver
hypothyroidism
Recent Research: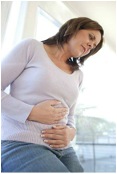 Recent studies by Dr. Pimentel at Cedar Sinai Medical Center in Los Angeles have shown that there may be more to irritable bowel syndrome than previously though. It appears that the great majority of irritable bowel cases are due to small intestinal bacterial overgrowth (SIBO), and that the problem can be cured with special antibiotics.
The initial trigger may be food poisoning or other stimuli that may lead to changes in the composition of gut flora. Dysbiosis becomes established and symptoms develop secondary to the byproducts of bacterial digestion and reproduction. These byproducts then cause irritation of the intestinal mucosa which leads to activation of the immune system. Some of these immune cells start attacking components of the intestinal brush border, particularly the nervous system in the intestinal wall that controls the contractions that propel food down the intestines. The contractions then become altered allowing the bacteria to sit for longer periods of time in the gut, these allows them safe harbor to reproduce further altering the intestinal mucosa. Eventually the bacteria migrate from the large intestine to the small intestine, they interfere with normal digestions and nutrient absorption. They also produce large amounts of gas that can further impair digestive function by causing bloating, distention of the intestinal wall and further impairment of the intestinal nervous system. All of these lead to the typical symptoms of IBS. Eliminating the bacteria can end this vicious cycle.
These digestive abnormalities can lead to leaky gut, which can trigger or exacerbate a variety of diagnosis like headaches, insomnia, body aches, fibromyalgia, rosacea and the like. See associated conditions.
✓ 84% of people diagnosed with IBS have SIBO
✓ Food poisoning is a common cause for SIBO
✓ Too much stress, hypothyroid, diabetes, stomach acid blockers, surgery and overconsumption of carbohydrates can also result in SIBO.
Testing:
Lactulose breath test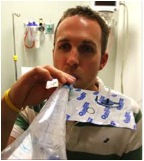 The breath test is simple, safe and an effective tool to diagnose SIBO. You can purchase a test kit after your visit at the Akasha Center. You can either follow the instructions and do the test at home or have it done at Akasha if you need nursing support.
Treatment includes:
Antibiotic Therapy
Herbal Antibiotic Therapy
Dietary Guidelines
Nutritional Supplements
Acupuncture
Stress Reduction (Yoga, meditation, Exercise)

Follow a hypoallergenic, anti-inflammatory and cleansing diet.
How Can A Dietary Regimen Help?
A number of patients cannot take antibiotics; others have previously received antibiotic treatment and wish to prevent recurrence. There are several dietary regimens that can help: The Specific Carbohydrate Diet, FODMAP diet and a combination of the two, among others. These diets seek to decrease the availability of complex carbohydrates to bacteria so they cannot reproduce.
A medically and nutritionally supervised dietary regimen is important to maintaining adequate nutritional intake, correcting nutrient deficiencies (particularly B12 and fat-soluble vitamins), and maximizing adequate digestion to avoid overfeeding the microbes are prime concerns when working with clients that have SIBO.
To be effective a dietary regimen must be customized; there is no one "diet" that is perfect for everyone. But start by eliminating all common food allergens from your diet such as dairy, eggs, wheat and the night shades vegetables.
Akasha's SIBO Expert Team: