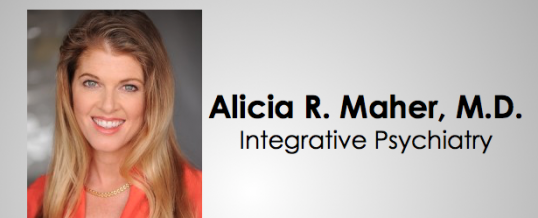 Alicia Ruelaz Maher, M.D., is a board certified diplomate of the American Board of Psychiatry and Neurology. In addition, she completed a fellowship in the interplay of mental and physical health leading to subspecialty board certification in Psychosomatic Medicine.
What made you decide to become a psychiatrist?
I went into medical school planning to be a surgeon, but I found myself fascinated with neurophysiology and neurochemistry. The best part was seeing how, by adjusting our brains, we could dramatically change our lives and more powerfully fulfill our life's purpose.
What are you most excited about in your field?
Neuroplasticity- the fact that we can change our brains, and therefore everything in our lives.
How do you deal with stress?
I've cultivated a number of spiritual practices that keep me centered and low-stress. When stressful moments do come, I've found the most power in directing my thoughts. The more I direct them towards positive, peaceful thoughts that are present and appreciating aspects of the moment, the less stress that I feel.
What's your favorite season?
Summer- my brain is solar-powered!
Dr. Maher uses a wide variety of treatments including psychotherapy, medications, natural treatments, and eastern practices such as meditation and breathing exercises, to help you to achieve your ideal state of wellness.
Learn more about our Integrative Psychiatry Services and Dr. Maher & make an appointment today. Call (310) 451-8880
Share