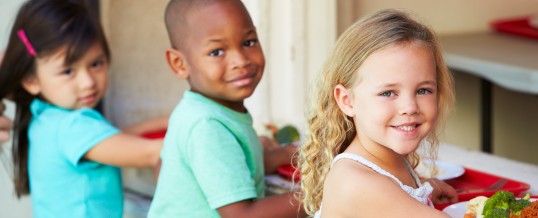 By: Amanda Miller MS, RN, Clinical Integrative Nutrition Nurse Consultant
It's back-to-school time, Los Angeles. Stocking up on a cart of conscious groceries for school lunches sounds like a great idea for your kids—until you realize you've got 17 other things on your to-do list for the day. We know that children are uniquely vulnerable to environmental toxin exposure and providing vital nutrients is essential to their development process . So packing them a clean, non-toxic lunchbox is especially important. Luckily, knowing these key concepts for a healthy school lunch will help you check it off your list – without the added extra time to your busy schedule.
Check the certifications: When choosing lunch items that are quick and easy to toss in a lunchbox, take a minute to evaluate what's on the packaging.
a. Trusted labels to look for:
i) USDA organic: ensures a food contains at least 95% organic ingredients
ii) Non GMO Project verified: meets the standard for avoidance of genetically modified ingredients
iii) Certified humane: ensures the animals raised for food have access to fresh water, quality food, and roaming space.
b. Labels to be weary of:
   i) Cage-free: does not mean the hens had outdoor access
ii) Free-range: there is no standardization for this
iii) All-natural: The FDA has not standardized this label, it is mostly used as a marketing tactic
2. Materials matter: When packing a lunch, it's safer to use tempered glass, stainless steel or bamboo products. Silicon is also a better option. Look for children's products that are BPA, BPS, PVC, phthalate and lead free.
a. Reusable stainless steel containers:
i) These LunchBOTS are a great choice to store food
b. Limit plastic bags:
i) Divided section containers: Bentgo boxes are a good option to separate the food without harming the environment
c. Lunch Boxes:
i) Traditional lunch boxes are typically made from vinyl (PVC), choose a better option made from recycled materials such as Wildkin
d. Sustainable Silverware:
i) Send your kid off with a reusable spork instead of that disposable plastic. These are BPA-free and specifically designed for kids.
3. Support their growth: Make sure you are packing a lunch with nutrients that will support healthy brain and bone growth
a. Fat Soluble Vitamins: A, D, E, K to provide essential nutrients for metabolic processes and bone growth (organ meats, cold water fatty fish, fermented foods, pasture raised eggs, and nato are all great sources)
b. Omega 3 Fatty Acids: EPA/DHA to optimize brain growth and function (cold water fatty fish, shellfish, low mercury species)
c. Protein/Amino Acids: to support optimal growth and development of muscles, tissues, enzymes, and vital bones and organs
d. Phytonutrients and Fiber from organic fruits and vegetables: to build a healthy microbiome essential for vital immune systems
Here are some options to choose from when creating that conscious cart. Remember, choosing from your local farmers market will usually ensure fresh, healthy ingredients.
• Hummus with cucumber, carrots, celery
• Non GMO corn Tortilla with hummus cut into triangles
• Non GMO corn Tortilla with almond butter and jelly, cut into triangles
• Non GMO corn Tortilla with mashed pinto beans, salsa and avocado
• Smoked salmon or sardines with sprouted crackers on the side
• Grilled or baked pasture raised chicken or turkey slices
• Black beans with organic, non GMO corn chips
• Tofu slices sauteed in sesame oil and tamari
• Sauteed Tempeh slices
• Almond butter and apple slices (squeeze a little lemon juice on the apples to keep them from turning brown)
• Organic, full fat fermented yogurt or coconut yogurt with a side of granola, hemp seeds and cut up fruit
• Salad with dressing on the side: romaine lettuce, garbanzo beans (or lentils or black beans), cucumber, carrots, kalamata olives
• Pasta with garbanzo beans, olive oil (or butter) and garlic
• Hard boiled egg
• Sprouted toast with almond butter and organic jam
• Sprouted toast with Sunflower seeds butter and sliced bananas
• Pasture raised turkey and Avocado Sandwich on sprouted grain bread
• Sprouted toast with almond butter and a small amount of nutella (consider the Justin's Chocolate Hazelnut Butter)
Vegetable:
• Cucumber slices
• Celery sticks
• Carrot sticks
• Roasted carrots, potatoes and/or brussel sprouts
• Steamed or roasted beets
• Baked sweet potato
• Snap peas
• Nori
• Steam or raw green beans
• Steamed, roasted or raw broccoli
Seasonal Fruit
• Apples with lemon juice squeezed on top (to keep them from browning)
• Grapes
• Watermelon slices
• Pineapple cubes
• Plum
• Orange
• Kiwi slices
• Melon slices
• Strawberries
• Pear
• Persimmon slices
• Nectarine slices
Something Fun (optional): Sometimes adding the right treat can provide a nice balance and keeps your kiddos from complaining that your lunches are too healthy!
• A few chocolate covered goji berries
• Chocolate covered almonds
• Non GMO corn chips, rice chips or veggie chips
• Trail mix with a few pieces of dark chocolate
• Homemade granola bars – lots of healthy recipes available with just nuts, dates and almond butter
• Steamed apples
• Apple sauce
Finally, involving your kids when packing their lunches can be a nice bonding experience while teaching them what keeps them healthy. This will hopefully sustain healthy habits for a lifetime!
–
Amanda Miller MS, RN is the Clinical Integrative Nutrition Nurse Consultant at The Akasha Center For Integrative Medicine. You can schedule an appointment with her by calling310-451-8880 or emailing us at info@akashacenter.com
Share