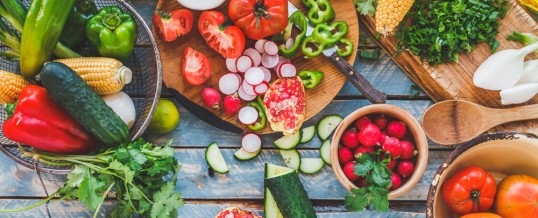 Here are 3 nutrient dense recipes that keep things fresh, light, and easy. Hit the local farmers market, grab your organic veggies, and let's get cooking!
1. Easy Paleo Breakfast Scramble:
Ingredients:
1 1⁄2 cup organic diced mushrooms
2-3 cups organic spinach
1-2 tbsp Avocado Oil
Handful of fresh basil, chopped
6 oz organic ground turkey
1⁄2 organic avocado
Sea salt and pepper to taste
Optional to add 2-3 fresh cloves of garlicDirections:
Directions:
In a large pan on medium heat, add Avocado oil and sauté mushrooms and garlic (if adding), about 3 minutes or until they begin to soften.
Add organic turkey and season with salt and pepper. You may add any other gut-friendly spices you desire as well such as cardamom, black cumin seed, turmeric, fennel seeds, etc. Sauté until meat is fully cooked.
Before removing from heat, add in basil and spinach and continue to sauté, about another 2 minutes.
Plate and top with fresh avocado slices.
2. Sweet Potato Avocado "Toast" with Smoked Salmon
Ingredients:
1 medium-sized organic sweet potato
4 oz. smoked salmon (no sugar added/nitrate free, such as Vital Choice)
1 organic avocado, mashed.
Fresh dill (optional)
Organic extra virgin olive oil (EVOO)
Sea salt and pepper to taste
Directions:
Cut sweet potato into 1⁄4 inch slices; washed well. Sweet potato slices can be cooked in two ways. Option 1: Set your oven to 450°F and then place your sweet potato slices directly on the grates or on a sheet pan, flipping every 5 minutes or so until they're nicely browned on the outside and soft inside, about 15 to 20 minutes total. Option 2: You can place the slices directly into your toaster and keep toasting slices for about 15 minutes or until they are brown on the outside and soft inside.Once your slices are done, spread each evenly with avocado mash and season lightly with salt and pepper.
Once your slices are done, spread each evenly with avocado mash and season lightly with salt and pepper.
Drizzle slightly with EVOO (optional).
Top "toast" with slices of smoked salmon. Add fresh dill on top of salmon for extra flavor.
3. ​Blueberry Smoothie
Ingredients:
– 1 cup non dairy milk (coconut milk, hemp milk or almond milk)
– 20 blueberries (fresh or frozen)
– 1/4 cup coconut yogurt (optional)
– 6 ice cubes
– 2 cups greens (spinach, kale, collard greens, dandelion, etc)
– 2 scoops protein powder
– 1 tbsp almond butter or coconut butter
– 2 tsp chia seeds or flax seeds
– 1 tbsp maca powder
Directions:
Place the non dairy milk, blueberries, greens, yogurt, and almond/coconut butter in the blender.Add the, ice cubes, protein powder, maca powder, and chia seeds to the blender.
Blend until smooth. You can always add more milk or take some away to get the consistency you like
Serve immediately. It is better to drink this smoothie straight away, otherwise it will melt and separate, which will change the flavor.
Amanda Miller, MS, RN, is Our Clinical Integrative Nutrition Nurse Consultant. You can make an appointment with her by calling 310-451-8880 or emailing us at info@akashacenter.com
Share