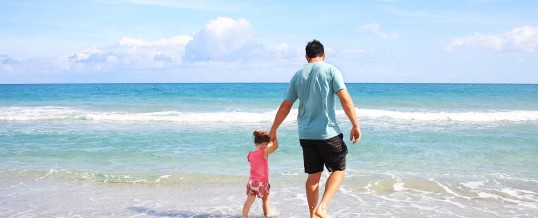 By Dr. Sari Eitches and Dr. Bren Boston
When a baby is born, so is a father. As physicians and as parents, we have gotten to witness the transformation that happens when a man becomes a father. We have noticed these incredible shifts in our husbands- a softening and deepening, and shifts in our patients- a sense of responsibility for their own, and their family's, well-being.
We now know that new dads experience peripartum hormonal shifts along with new moms. Fathers, especially primary care-takers, experience and increase in the "feel-good" hormone oxytocin that facilitates bonding and care-taking.
These shifts are linked to changes in dad's neural circuitry and behavior. Studies have shown that early fatherhood triggers new neuronal growth and activation in the superior temporal sulcus and the amygdala. This is associated with social and emotional processing. The brain literally gets rewired for fatherhood.
New fathers may also notice changes in their daily behavior. They may become more confident, yet more risk-averse. Their circadian rhythm is very likely to shift earlier to match their children's. They may experience more empathy and patience toward their family and community in general.
A new father is easy to spot in our offices as well- he is often the one asking for "the full workup."  While he may not have seen a doctor in several years, a new father wants to stay healthy to optimize his longevity.  An annual physical exam and blood work go a long way to screening for health issues before they become symptomatic.  
Fatherhood can provide a wonderful opportunity for a man to focus on optimizing his energy through his food choices, exercise commitment, and mindfulness to staying present in his interactions with his children.  The 21 day Akasha Cleanse can be very helpful in getting on track to optimal wellness.  Given the additional stressors that fatherhood can bring (sleep deprivation, time constraints, financial concerns), a father's attention to his own wellness is a gift that gets shared by his children.  
–
Drs Sari Eitches is a dual board certified Internist and Integrative Physician while Dr. Bren Boston is our Director of Pain Management and Sports Medicine. You can make an appointment with either of them by emailing info@akashacenter.com, or calling our office at 310-451-8880
Share