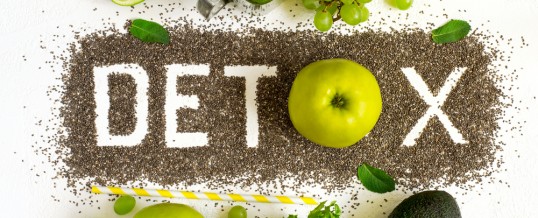 Any successful detox starts with avoidance.
You always want to avoid toxins as much as possible, but it's tough in a world with tens of thousands of chemicals and tempting food.
Let's focus on the second aspect of a successful detox: clearance
How much do you know about what your liver needs? Your liver enzymes need to process the toxins you are exposed to, in the air you breathe, the water you drink, the food you eat and in what you put on your skin: cosmetics, soap, shampoo.
In fact, your liver needs a lot of things: amino acids, vitamins, minerals and antioxidants. Each one of these is used as a cofactor to makes detoxification enzymes work. Cofactors (minerals and vitamins most commonly) makes the enzymes responsible for detoxification work.
A nutrients dense diet should provide enough of these cofactors to keep us in good health. But if we inherit from our parents "weaker detoxifications genes", it becomes trickier. Having adequate amounts of vitamins and minerals then becomes even more important as we want to optimize as much as possible the function of these slow detox genes.
This can be achieved with specific supplements if necessary.
Here are the main genes involved in the detoxification processes: the first group includes Cytochrome P450 genes, a broad family of enzymes initiating the detoxification process. Cytochrome P450 enzymes need B vitamins as co-factors. Once processed by the Cytochrome P450 enzymes, your body uses antioxidants, various minerals as cofactors, to initiate the second phase of the detoxification.
The combination of the 2 phases: Phase 1, under the control of the Cytochrome P450 enzymes and then Phase 2
under the control of multiple genes with various function such as PON1, NAT2, GPX, GPST1, SOD, SUOX make elimination of toxins possible.
These very important Phase 2 enzymes need minerals as co-factors such as Selenium, Zinc, Molybdenum, Manganese to make the elimination of toxins possible.
As an example, GPST1 enzyme uses glutathione (our main antioxidant) needs Zinc and Selenium as cofactors in the process.
Missing any one of these could leave you with impaired detoxification!
Dr. Jean-Marc Sobczyk is an expert in Nutrigenomics and Genetics testing, and is available at the Akasha center, to help optimize your detoxification program. He offers Individualized detoxification program based on your genetic predispositions. To know more about about gene testing and health optimization and how to reach your maximum potential, you can follow him on Instagram @mthfr_expert or contact him at the Akasha Center for Integrative Medicine by emailing us or calling 310-451-8880
Sources:  Clean, Green, and Lean: Get Rid of the Toxins That Make You Fat by Dr. Walter Crinnion ND
Share